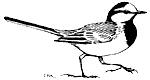 GUIDELINES FOR SUBMISSION OF WRITTEN DESCRIPTIONS
TO THE CALIFORNIA BIRD RECORDS COMMITTEE (CBRC).
---
All reports MUST include the species, location, date of the observation, and the name of the observer. The most important additional information you should include is a detailed description of the bird seen (not what it should look like), comparing the bird in question to similar species. Include the viewing conditions at the time of the observation. For more information on documenting and reporting rarities, click here.
An optional fill-in-the-blank form is available for submitting your sightings electronically. Download it here. Photos should be submitted as separate JPEGs with original metadata (exif) rather than embedded in word processing documents.
Additional Resources
A Lost Art?: Writing Descriptions of Rare Birds - David Irons
Elements of a Bird Description - Lauren Harter
How to Document Rare Birds - Donna L. Dittmann and Greg W. Lasley
How to Write Convincing Details - Mike Patterson
Writing a Rare Bird Report - Steve Summers
Reporting Rarities - Elements of a Bird Description